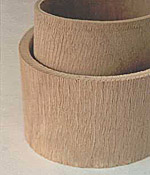 Multiflex is a special kind of plywood which, thanks to its particular composition, has a high flexibility and bend-ability that can be applied on a curved radius.
Multiflex is a very practical solution to produce curved structures, especially when small radii are required.
Multiflex is a unique product for the ease with which it can take any curvature and rounded shapes, including "S" or circular.
Multiflex is suitable in the creation or the coating of curved columns, arches cabinet applications, curved furniture parts and fixtures in restaurants, reception and office work stations, stage sets, spiral stairways, boats, caravans, and contemporary interior architecture in general.
Trade names
Flexply, flexoply, flexible plywood, bendy plywood, bending plywood, super form, bendable plywood, the bendable panel, curve-ply, wacky wood, wiggle wood, contreplaqué souple, panneau contreplaqué cintrable, biegensperrholz, contrachapado curvable, compensato flessibile, pannello compensato curvabile, esotico flessibile, esoflex, compensato pieghevole, radius plywood.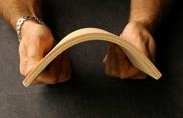 Features and advantages
– Cold forming with small radii (with no need for heat forming or water treatment).
– Self-supporting structure eliminates the need for structural skeletons or special supports.
– Complex multi-radii shapes can be quickly and easily prepared.
– The panels can simply be combined and glued together to create different thicknesses (10, 13, 15, 18, 20, 21 mm, etc.).
– More convenient than other pre-made wood forms.
– Reduction of material and labour costs to a minimum.
– No need for special equipment or prior experience.
Composition
The panel consists of two veneer sheets of Ceiba pentandra (exotic veneer from timber plantation wood, also called fromager or fuma) with parallel grain and inner core of thin wood or other flexible material.
From 3 mm to 9 mm thickness the composition is 3-layers, over the composition is 5-layers.
Standard Sizes

Long grain – Barrel Bend
2500×1220 mm
3100×1830 mm
(bending in the longest dimension)

Cross grain – Column Bend
1220×2500 mm
1830×3100 mm
(bending in the shortest dimension)

Thickness
4, 5, 8, 10, 12, 16 mm

Special sizes and thicknesses upon request.




Multiflex long grain

Multiflex cross grain
| | |
| --- | --- |
| Technical specifications | |
| Bending radius for a 5 mm board | about 50 mm |
| Bending radius for a 8 mm board | about 100 mm |
| Bending radius for a 16 mm board | about 300 mm |
| Longitudinal elasticity for a 5 mm board | 210 N/mm2 |
| Cross elasticity for a 5 mm board | 6300 N/mm2 |
| Thickness tolerance | +/- 0,35 mm |
| Length tolerance | +/- 5 mm |
| Width tolerance | +/- 5 mm |
| Tolerance in squaring | 2 mm/m |
| Moisture content (at delivery) | 8-12% |
| Reaction to fire (EN 13501-1) | D-s2,d0 – Dfl-s1 |
| Thermal conductivity (EN 12664) | 0,12 W * (m k)-1 |
| Density (EN 323) | about 400 kg/m3 |
Bonding (formerly called IF20) is made with urea-formaldehyde glue (UF) and is in compliance with the provisions of the EN 314-2 standard.
After suitable treatment in view of resistance to humidity, the board complies to Class 1 requirements for the use of boards in dry environments (EN 636-1).
Class 2 (formerly called AW100 or MR), for uses subject to exposure to moisture variation, can also be produced upon request with melamine gluing.
Formaldehyde emissions are below those established for Class E1 in conformity with the EN 636 standard. The low-emission class E1 panels do not cause a concentration of equilibrium in the air of the test chamber (defined in the EN 717-1 standard) greater than 0.1 ppm, the limit established by the World Health Organization for living and residential environments.
Usage and storage instructions
– Store the panels lying flat in a clean, shaded, dry place.
– Panels should be transported on a hard flat surface. Single panels can be rolled, but should not remain in this position for long periods.
– Do not expose the panel to sudden changes in humidity, temperature, and also protect it from sunlight.
– Glue the panels while they are brought into the desired shape. When the glue is dry, panel will retain its shape.
– High Pressure Laminate or paper-backed veneer can be applied during the initial curving process, or in a second step.
– Any wood glue can be used.
Multiflex is developed and optimized to work in perfect combination with GLOBAL membrane presses


GMP-P | GLOBAL MEMBRANE PRESS PROFESSIONAL from GLOBAL VACUUM PRESSES on Vimeo.
If you are looking for a reliable supplier of this product or you need more technical information, please contact me using the form on this page.

If you want to improve the information I provided on this page, or you simply want to add your comments or experience about this product, feel free to post a comment below.