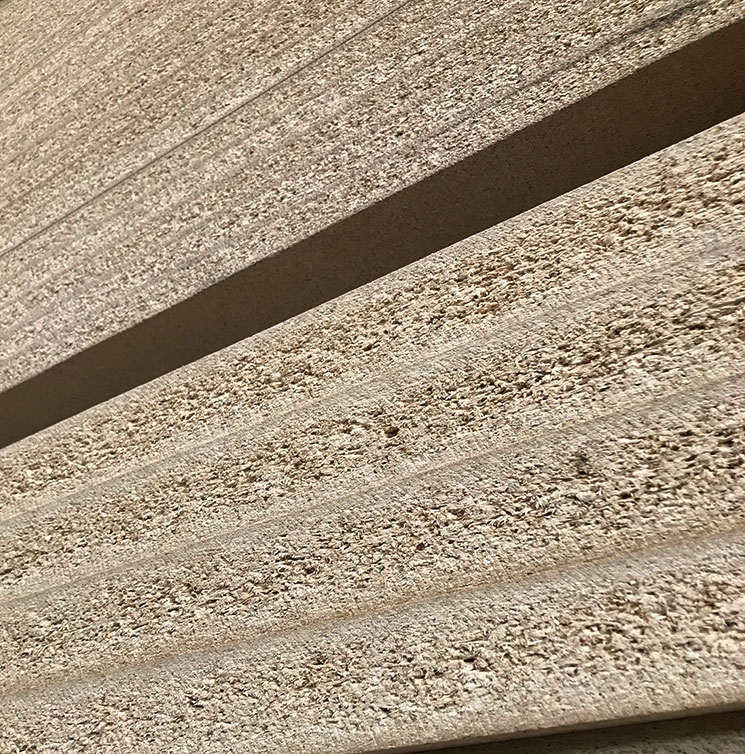 Lightweight particle board poplar panels are unique both in their appearance and in their physical and mechanical properties. They have a compact core of environmentally-friendly poplar timber, and a fine surface with micro-particles with very light color, typical of the wood they are 100% made of.
The careful selection of poplar timber particles, mostly coming from trees discarded by sawmills and plywood producers, ensures excellent stability and high workability even at the edges, as well as ease of cutting, machining, milling, and molding processes. The inner layer is very compact and homogeneous and, thanks to peculiar poplar features, it allows long life to processing tools, as well as excellent screw-holding ability.
Poplar Raw Material
Lightness comes from raw material selection and a special production process: it simplifies handling and following manufacturing processes, and helps save shipping costs of finished products. Lightweight particle board poplar panels density goes down to 450/490 kg/m3 (compared to 550/650 kg/m3 of other kind of particle boards)!
Panels are suitable for finishing with melamine-impregnated papers, or coating with plastic laminates, finish foils, floors overlay, PVC, PP and veneers.
The standard dimensions most commonly produced are:
4220 x 1860 mm
4220 x 2070 mm
3760 x 1860 mm
3760 x 2070 mm
2800 x 2070 mm
Thickness ranges from 8 to 58 mm
Special sizes or thicknesses can be produced upon quotation and minimum quantity requirements.
Panels are available raw, melamine faced and veneered. Standard range or custom possibilities, upon request.
Bonding is made with certified urea-formaldehyde resin, suitable for panel use in dry conditions. The panel is compliant with Class 1, according to the requirements of EN 717-1 (single-value <= 8mgHCHO/100g – medium value <= 6.5 mgHCHO/100g) methodological standards EN 120, commercially known as E1.
Upon request, they also meets the requirements of the CARB 2 California Code of Regulation (FRO ATCM §93210.2 (a) Table 1, Phase 2) and TSCA Title VI – 40 CFR Part 770.
If you are looking for a reliable supplier of this product or you need more technical information, please contact me using the form on this page.

If you want to improve the information I provided on this page, or you simply want to add your comments or experience about this product, feel free to post a comment below.