One of the latest industrial applications on blockboard, consists in overlaying the panel with a durable decorative surface material, called continuous high pressure laminate (cHPL or CPL). This panel has special performance properties including chemical, fire, and wear resistance, which add to the well-known great features of blockboard.
Some of the most common enforcements are structures for upper and lower kitchen cabinets, workbenches, child room and office furniture, and all kinds of articles that require excellent resistance to scratch and hard use.
Trade names
Laminated blockboard, melamine-faced blockboard, formica laminate blockboard, laminated lumber core, melamine-impregnated film-coated block board.
Construction
cHPL with a thickness of 0,5 mm is laminated on blockboard with PVAc (D3) glue and is available with two kinds of raw panels as core material: the 3-ply or 5-ply construction (without any HDF), or with the 3-ply or 5-ply construction with a thin HDF under the laminate as per following pictures.
The thin HDF panel under the cHPL overlay totally eliminates any kind of telegraphing defects that might sometime appear on the veneer core, so it's highly recommended.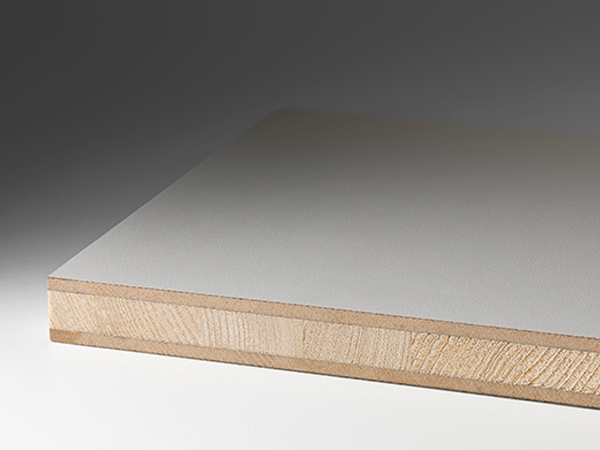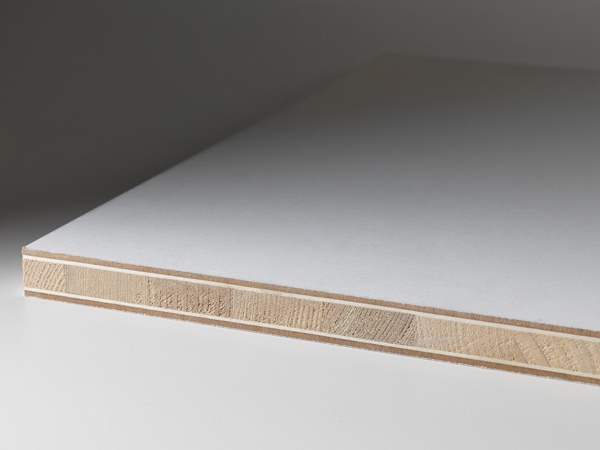 cHPL laminates are available in a selected range of colors and wood grains and finishings, well integrated with the current trends and needs of the market.
Custom laminates are available upon request.
Design range
White Vale

White Edim

Gray Zuri

Gray Brug

Gray Lisb

Grey Vars

Black Gine

Silver Dubl

Ivory Sofi

Magnolia Pari

Maple Mona

Maple Lond

Oak Flor

Oak Bilb

Oak Slov

Oak Anve

Oak Lips

Beech Rome

Beech Oslo

Cherry Prag

Cherry Lubi

Cherry Buda

Cherry Barc

Walnut Brux

Walnut Mars

Walnut Buda

Walnut Bern

Walnut Berl

Walnut Lyon

Walnut Veni
Finishing top coat range
Standard sizes
3660×1840 mm (*)
3120×1840 mm
3660×2060 mm
(*) = most common size

Thickness
15, 18, 20, 25, 30 mm

Special sizes and thicknesses upon request.
Bonding of the faces is made with urea-formaldehyde glue (UF) (formerly called IF20), while the lumber core is bonded with PVAc (D3), in compliance with the provisions of the EN 314 standard.
After suitable treatment in view of resistance to humidity, the board complies to Class 1 requirements for the use of boards in dry environments (EN 636-1).
Class 2 (formerly called AW100 or MR) can also be produced upon request.
Formaldehyde emissions are below those established for Class E1 in conformity with the EN 636 standard. The low-emission class E1 panels do not cause a concentration of equilibrium in the air of the test chamber (defined in the EN 717-1 standard) greater than 0.1 ppm, the limit established by the World Health Organization for living and residential environments.
If you are looking for a reliable supplier of this product or you need more technical information, please contact me using the form on this page.

If you want to improve the information I provided on this page, or you simply want to add your comments or experience about this product, feel free to post a comment below.